2020 FALL CRAFT SHOW – NOVEMBER 7TH

  —> THE SHOW IS ON! but in a limited capacity.  Craft booth spaces are full and we are not accepting any more registrations.  We encourage vendors to continue checking our website for information for future craft shows.  Next show date is tentatively set for Saturday, March 13, 2021

.   
2020 Fall Craft Show Registration forms packet (printable)
2020 FALL Craft Show Welcome Letter packet (printable)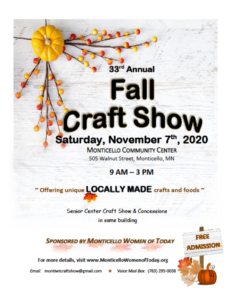 2020 Fall Craft Show Flyer (printable version)
Questions?  Email us:  MontiWTCraftShow@gmail.com  *No phone calls please.
Mail to: Monticello WT Craft Shows, PO Box 643, Monticello MN  55362.
Don't forget to mark your calendar for our 2021 SPRING CRAFT SHOW  ~ March 13th, 2021  (2nd Saturday) ~
Spring Show forms will be posted after the 2020 Fall Show.  Please keep us in your Favorites and like us on Facebook (Monticello Women of Today).
NOTE TO CRAFTERS/VENDORS: You are responsible for any sales tax owed to the State of Minnesota. Please check out the Fact Sheets below to determine your potential tax liability. You can contact the MN Department of Revenue if you have questions or need a sales tax ID.