The events listed below are either hosted by our chapter or are helping to promote a good cause in our community.  You are invited to participate with us.  Go ahead and email us:  MonticelloWomenofToday@gmail.com.
---
3rd Saturday of the Month ~ 10 am ~ Caribou Coffee Social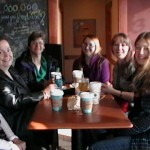 Stop by the Caribou by Target and enjoy your favorite beverage while you visit with us for an enjoyable social time.  Meet some Women of Today members and see what we are all about!  Next Caribou Coffee Social is Saturday, March 17th.  (We will be drawing for our charity raffle prizes at that event.)
First Thursday, each month ~ 6:30 pm ~ CHAPTER MEETING at Community United Methodist Church
Click here for more information.  Please contact monticellowomenoftoday@gmail.com if you are interested in attending.
Tuesday, February 6th ~ 6:30 to 9 pm ~ "An Evening of Chocolate & Wine" Membership Event
This event will be held at the Monticello American Legion.  What is life without chocolate?  You won't want to miss the delectable chocolate desserts courtesy of our members.  Please bring the recipe with your dessert – a special "Sinfully Chocolate" recipe book will be composed from the recipes.  Everybody gets to sample the desserts and prizes will be awarded in 3 special categories.
Remember to also bring a guest or two with you.  There will be surprises, fun, and games along with a wine presentation at 7 pm.  Beverages can be purchased from the Legion bar.
Members that wish to dine off the menu prior to the event should arrive at 5:30 pm.
You can email monticellowomenoftoday@gmail.com to RSVP or for more information about this event.
Spring Craft Show ~ Saturday, March 10th
Monticello Women of Today host their Spring Craft Show on Saturday, March 10th, 2018 at the Monticello Community Center.  Free admission – lots of great crafters – concession stand with homemade treats.  If you are a vendor interested in a craft booth, please select the craft show tab for more information.
Coins for a Cause ~ Monticello Movie Theatre lobby
Check out our "wishing well" at the Monticello Theatre.  Feel free to pick up business cards from our sponsors and drop a coin in the well, just for fun.  Thanks so much for donating!
Little Free Library
Look for the Women of Today Little Free Library located next to our park bench along the trail just west of Otter Creek Park!  You are invited to take books to read (and you can leave some too, if you'd like.)
Parent Night Out (Monticello School District)
Parents of school children with disabilities can apply for a chance to be given a night out from the Monticello Women of Today.  We provide funds for a movie and dinner for the parents and a check to pay the caregiver that cares for your child on your evening out.  Application information is provided through the school district.
Monticello High School Scholarship
Monticello Women of Today provides funding for one scholarship annually.  Community organizations, businesses, and individuals sponsor these scholarships through the Monticello School District Foundation.  All graduating seniors are invited to apply for scholarships which are awarded annually during the Baccalaureate program at the end of the school year.  We are proud to be part of this tradition.