The events listed below are either hosted by our chapter or are helping to promote a good cause in our community.  You are invited to participate with us.  Go ahead and email us:  MonticelloWomenofToday@gmail.com.
---
3rd Saturday of the Month ~ 10 am ~ Caribou Coffee Social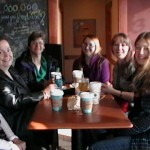 Stop by the Caribou by Target and enjoy your favorite beverage while you visit with us for an enjoyable social time.  Meet some Women of Today members and see what we are all about!
Coins for a Cause ~ Monticello Movie Theatre lobby
Check out our "wishing well" at the Monticello Theatre.  Feel free to pick up business cards from our sponsors and drop a coin in the well, just for fun.  Thanks so much for donating!
Thursday, August 3rd ~ 6:30 pm ~ Chapter Meeting at Community United Methodist Church
Click here for more information.  Please contact monticellowomenoftoday@gmail.com if you are interested in attending.