The events listed below are either hosted by our chapter or are helping to promote a good cause in our community.  You are invited to participate with us.  Go ahead and email us:  MonticelloWomenofToday@gmail.com.
---
2nd or 3rd Saturday of the Month ~ 10 am ~ Caribou Coffee Social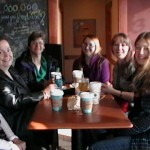 Stop by the Caribou by Target and enjoy your favorite beverage while you visit with us for an enjoyable social time.  Meet some Women of Today members and see what we are all about!
Coins for a Cause ~ Monticello Movie Theatre lobby
Check out our "wishing well" at the Monticello Theatre.  Feel free to pick up business cards from our sponsors and drop a coin in the well, just for fun.  Thanks so much for donating!
First Thursday, each month ~ 6:30 pm ~ Chapter Meeting at Community United Methodist Church
Click here for more information.  Please contact monticellowomenoftoday@gmail.com if you are interested in attending.
Saturday, September 23rd ~ Eastview Family Extravaganza
Look for the Women of Today booth at the Open House for the new Eastview Education Center.  Thanks to Trina and Kelsey for chairing – face painting and crazy hair!
Saturday, September 30th ~ Party for a Purpose
Women of Today will again be supporting this fun event at the Monticello VFW.  Events will take place all day long including a 5K, face painting, games, food, and much more!  All funds raised support local families dealing with cancer.
Saturday, October 6th ~ Timber Dash
This 5K fundraiser is sponsored by Crisis Nursery of Wright County and is held at Lake Maria State Park.  Women of Today have been involved for a number of years and plan to help again this year.
Saturday, October 14th ~ 5 pm ~ Rivers of Hope Gala
This annual event is a fundraiser to support Rivers of Hope in their mission to support victims of Domestic Violence and raise Awareness in the community.  Women of Today will assist with check-in, silent auction, and some games.  The theme this year is a "Masquerade Ball".
Saturday, October 28th ~ 10 am to 2 pm ~ "Color Me Fall" Family Fun Event at Bertram Park
This is a new event sponsored by the City of Monticello and Monticello Community Center and will feature fall and halloween fun at Bertram Park.  Women of Today have been invited to run one of the activities, so come enjoy the day with us.
Saturday, November 4th ~ 9 am to 3 pm ~ Fall Craft Show
The Monticello Women of Today our hosting our 30th Annual Fall Craft Show at the Monticello Community Center on Nov 4th.  The public is invited to check out our many fine crafters – admission is free!